Gallery
An excellent branch outing on Saturday 19th Nov to the Exmoor Brewery at Wiveliscombe in north Somerset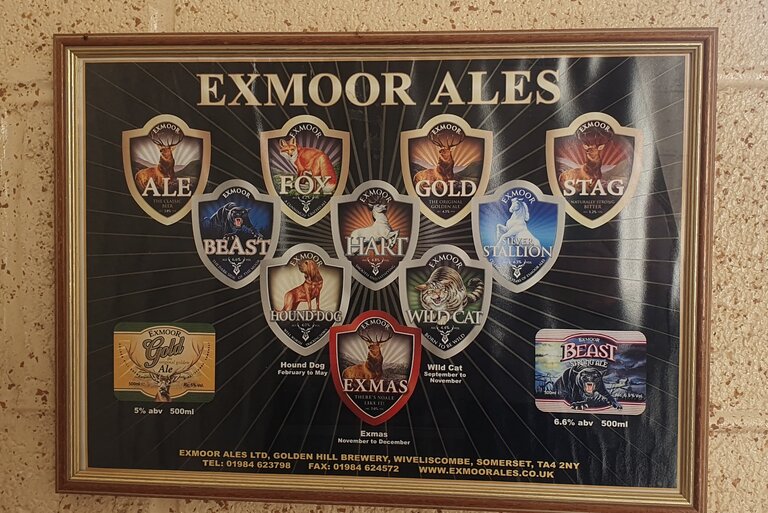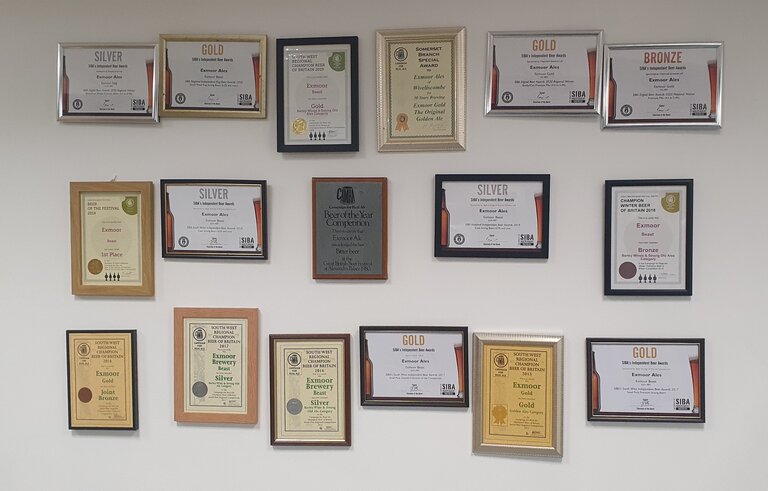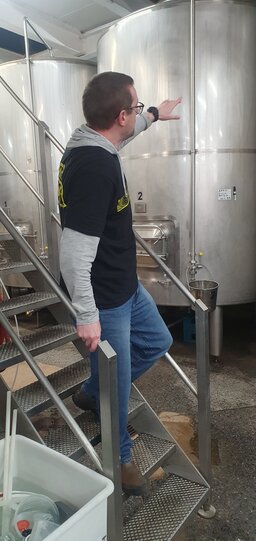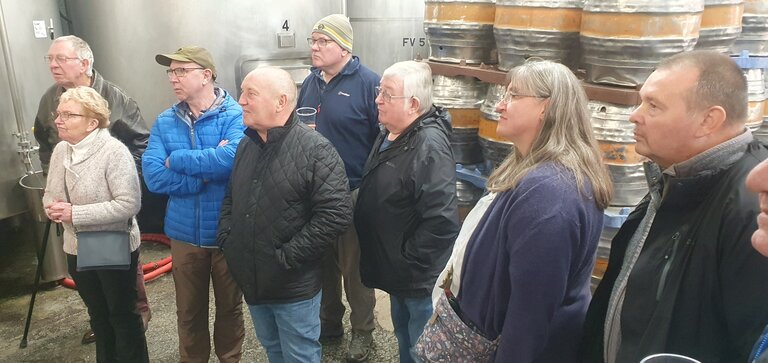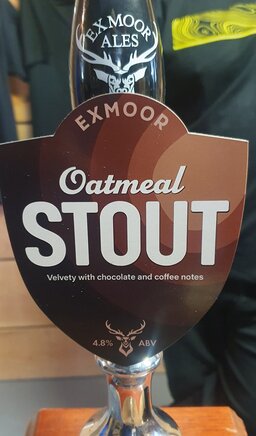 We were treated to outstanding hospitality by brewery owner and MD Jonathan Price, and his team (Tom and Callum). Not only were we treated to two of the brewery's classic ales - Exmoor Gold and the Beast, but also a new seasonal offering - Oatmeal stout - a velvety 4.8% with chocolate and coffee notes - delightfully moreish.

Plus, we had the opportunity to experience Caskbier - one of their new Pathfinder range of ales - using more exotic hops and so designed to appeal to a younger market - Craft in Cask - currently being brewed in smaller batches to test the waters. If the Caskbier we sampled (at 5.2% a fitting tribute to Oktoberfest if ever there was one) was anything to go by then they're definitely going to be on to a winner!

That aside, it was a great opportunity for the 19 members from North Devon to catch up with fellow CAMRA members from both North Somerset and Exeter and East Devon. A thoroughly enjoyable day, so a big vote of thanks to Exmoor Brewery, and to branch members especially Mark Partridge for organising the day.



Sat 29th October - Brilliant Joint Devon Branches Social and presentation with welcome guests from Somerset and Cornwall.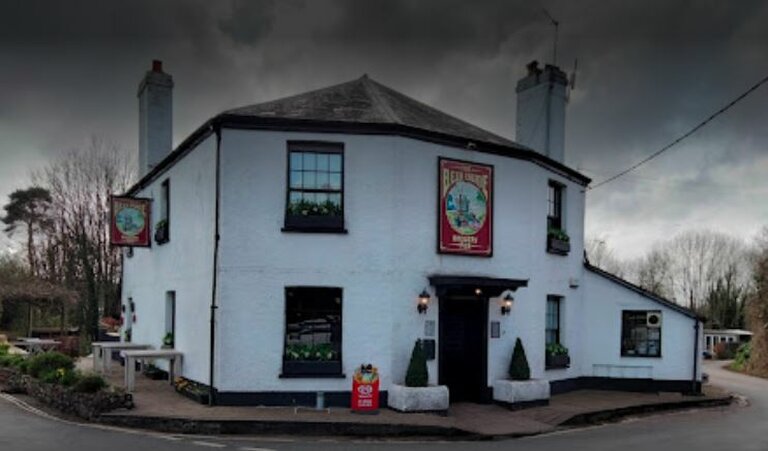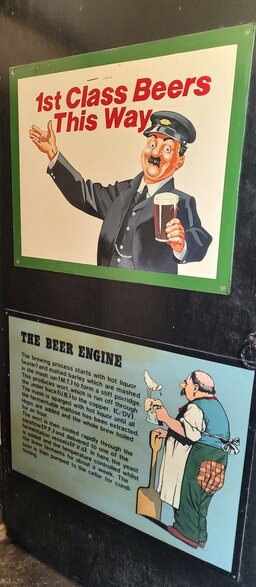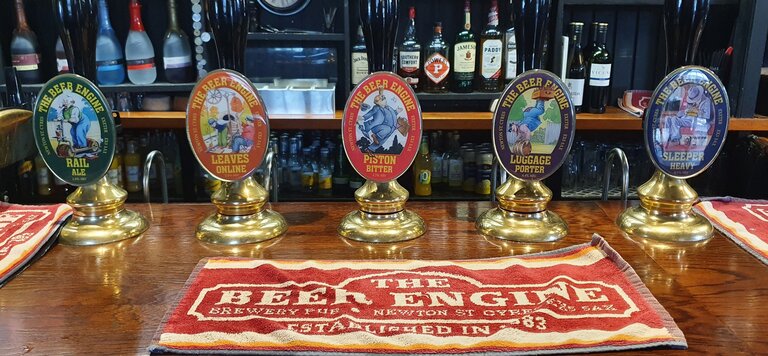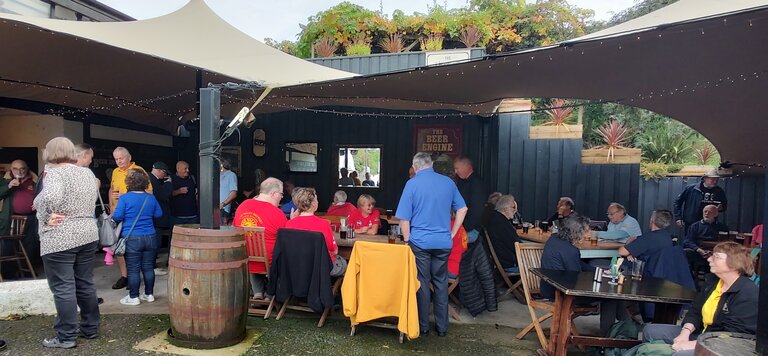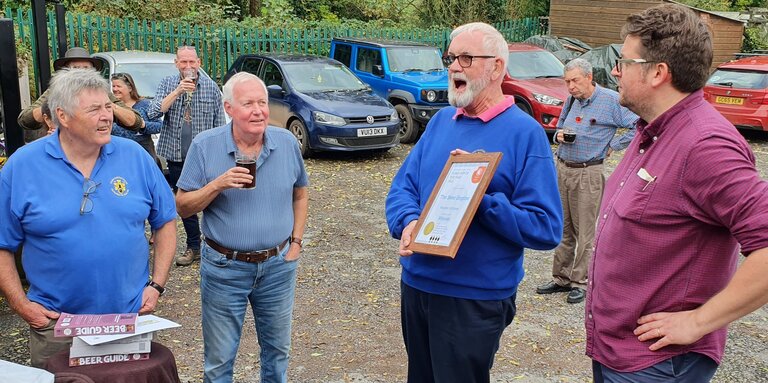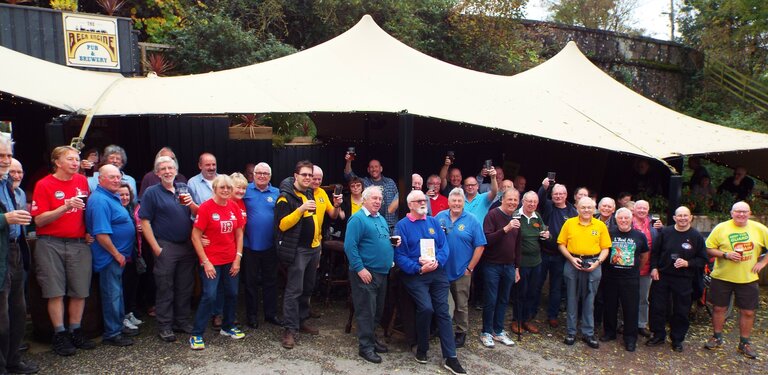 The Beer Engine at Newton St Cyres looked after us really well for our joint social. A splendid buffet and a great range of beers. It was a very pleasant afternoon of renewing old friendships and making new ones.

Real Ale Trail to Exmouth.
A brilliant event despite the frustration of rail strikes postponing the trip.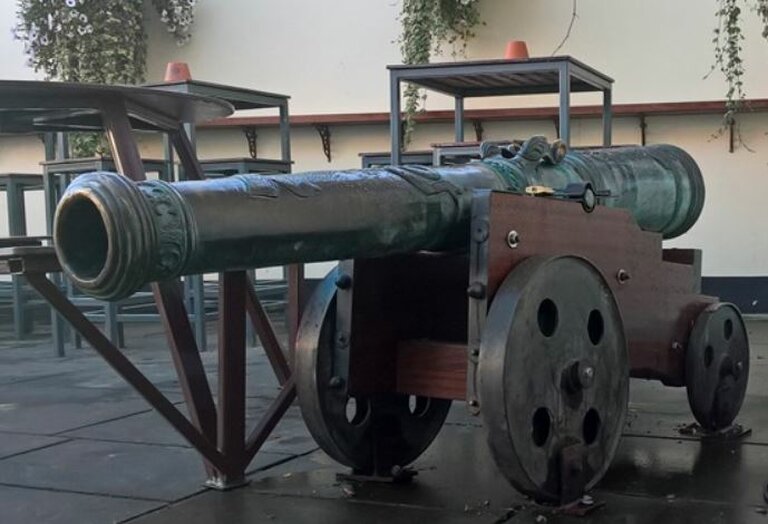 First stop was the Powder Monkey with an impressive range of ales on tap, including Bishop's Finger, Devon Dumpling, Old Speckled Hen and Jail, not to mention the usual House beers.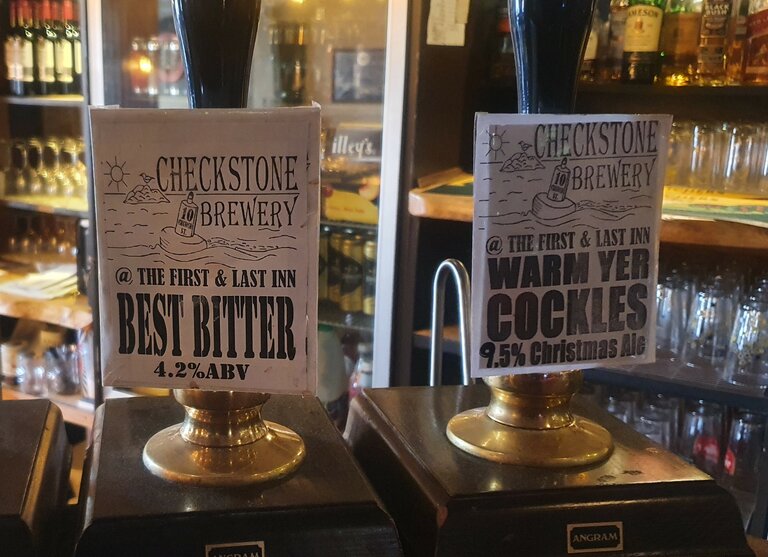 Next stop: First and Last Inn, the home of the renown Checkstone Brewery. There were treats in store from their Best Bitter at 4.2%, to a Christmas Ale called Warm Yer Cockles which at 9.5% does exactly what it says on the tin, there was something for everyone's taste. The powerfully hopped Hazy Dayz at 5.9% and Golden Ale were also on offer. Those who went for the 6.5% Scrumpy Cider were not disappointed either!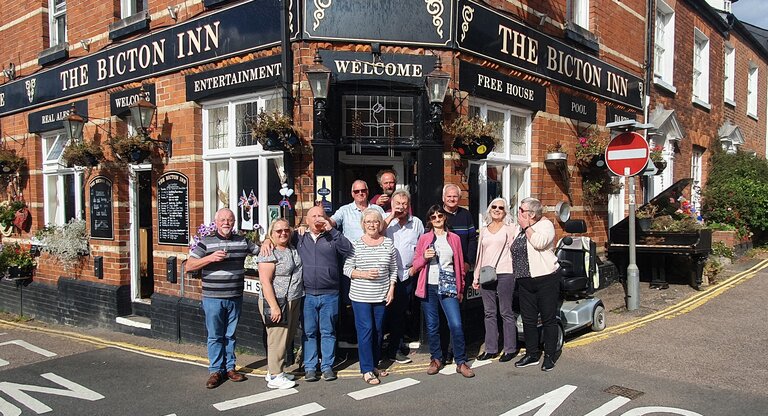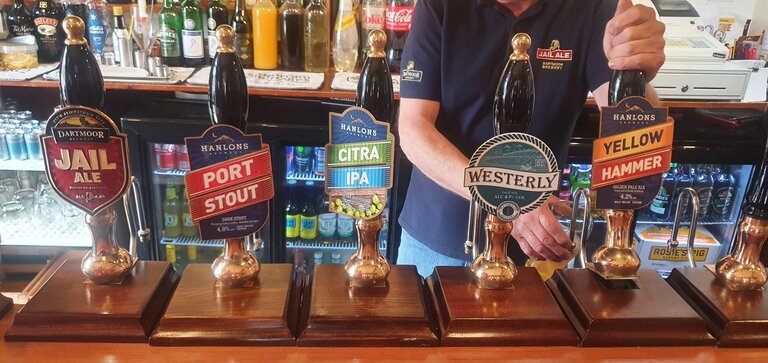 Next was the multi award winning Bicton Inn sporting an impressive array of Hanlons finest ales including Yellow Hammer, Citra IPA and Port Stout , plus Dartmoor Jail Ale and Teignmouth's Westerley pale ale.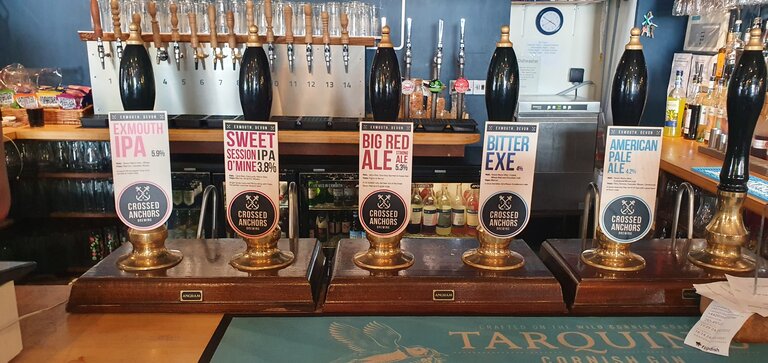 Next: The Grapevine Brewhouse. Home to the Crossed Anchors Brewery since 2015. We were offered a range of no less than 5 house ales - two IPAs (Sweet Session O'Mine at 3.8% and Exmouth IPA at 5.9%), plus American Pale Ale at 4.2%, Bitter Exe at 4.0%, and Big Red Ale at 5.3%. All were in excellent form.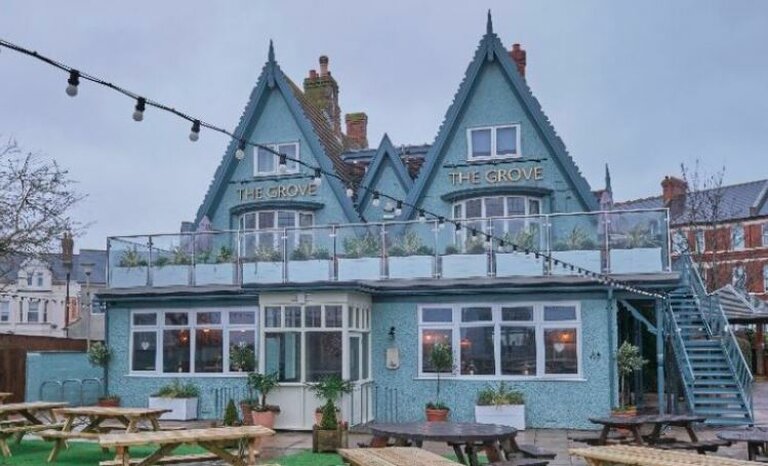 Our last stop was the Grove which managed to maintain the incredible standard already experienced that afternoon. Young's London Original and Young's Special were both well served, as indeed was the Proper Job, and Citra IPA. This is a seafront pub with an excellent restaurant.
All in all it was a grand day out. Thanks to Mike Fletcher for sorting out the train times and Dave Paterson for organising our route.
Social and presentation - the evening of 21st October, at The Reform Inn, giving Tim Webster (of Barum Brewery) his Brewery Of The Year certificate.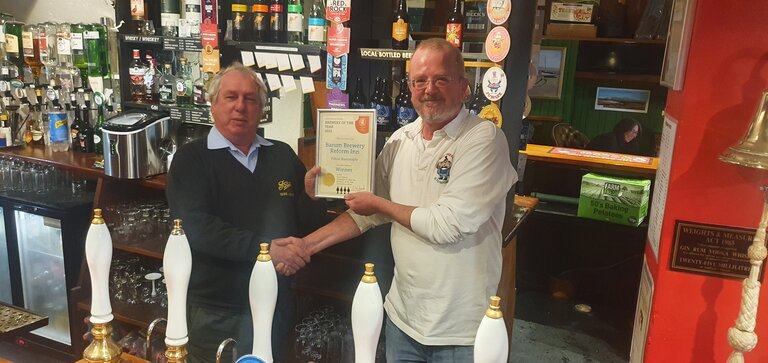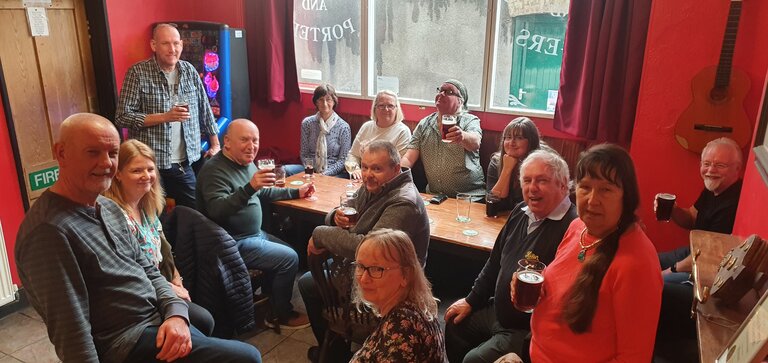 A small crowd were present to celebrate and Snuffy (AKA Stephen Lock) Chair, presented the certificate.

Branch Social, Saturday 8th October at Country Life Brewery at the Big Sheep Abbotsham to celebrate 25 years of brewing.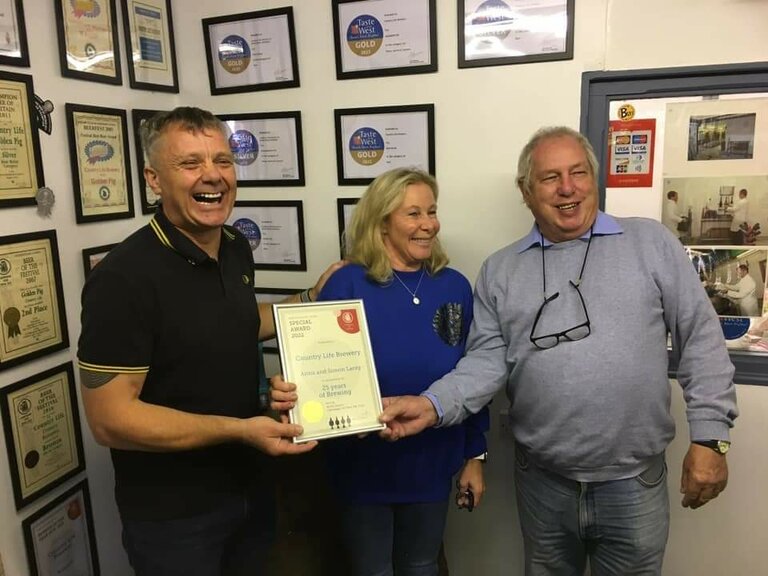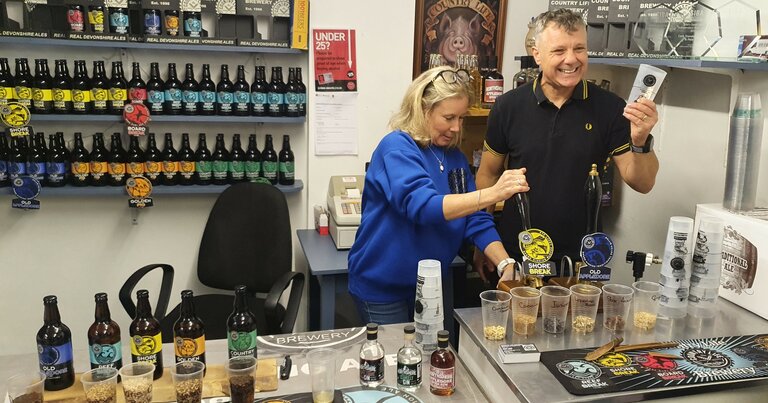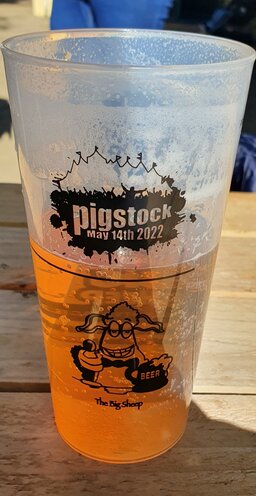 A certificate was presented in recognition of this achievement.

CONGRATULATIONS to: The Globe at Beaford, our Pub of the year winner 2022 .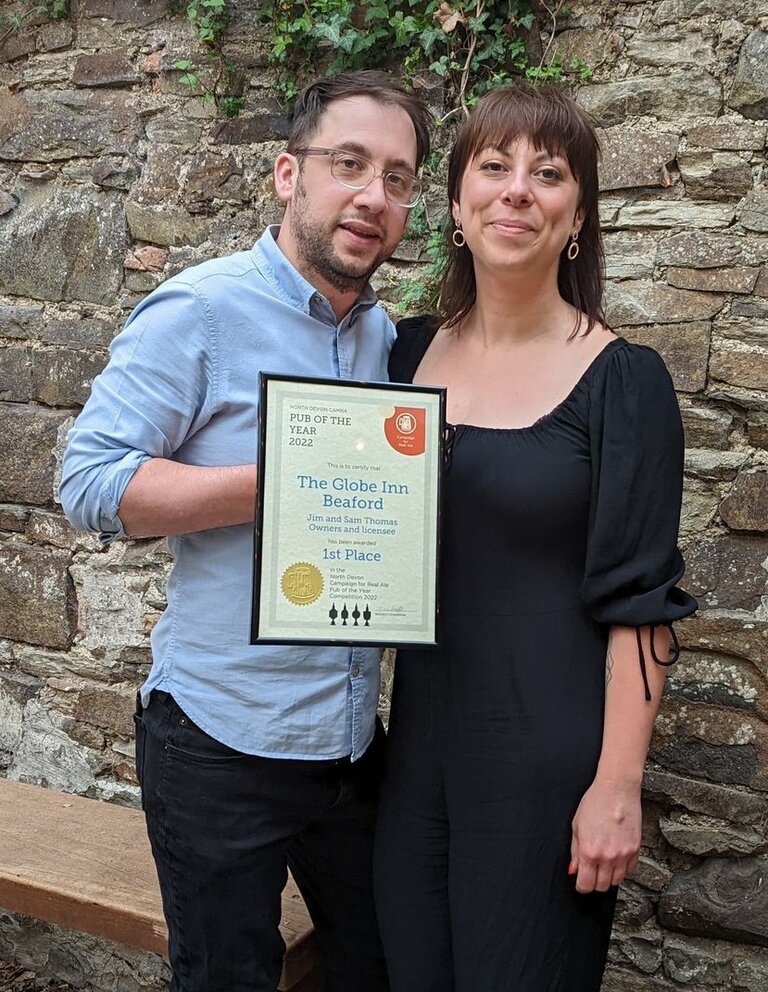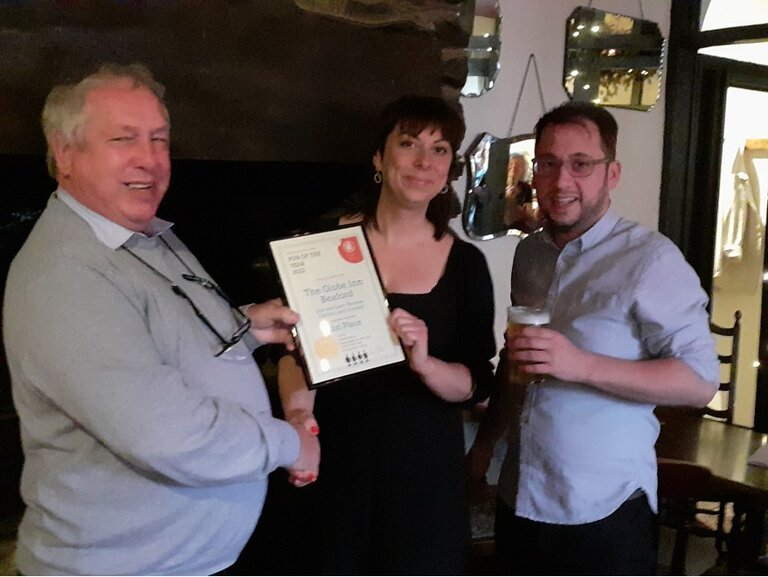 A lovely evening at the Globe Inn at Beaford, where our chairman Stephen Lock presented James Thomas and Sam Clegg with their well earned certificate. We enjoyed listening to some good music from a blues/folk duo and the whole pub enjoyed a tasty selection of the food provided.
CONGRATULATIONS to: The Grove at Kings Nympton, our Cider Pub of the year winner 2022 .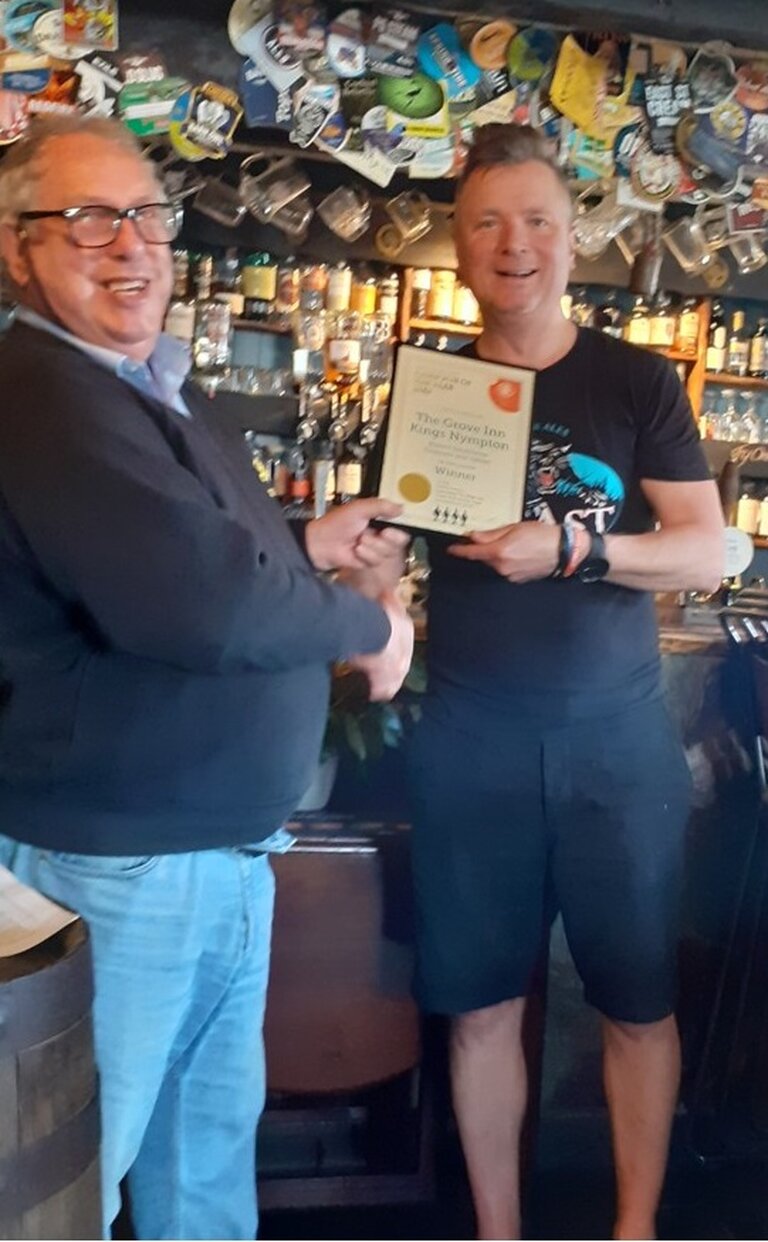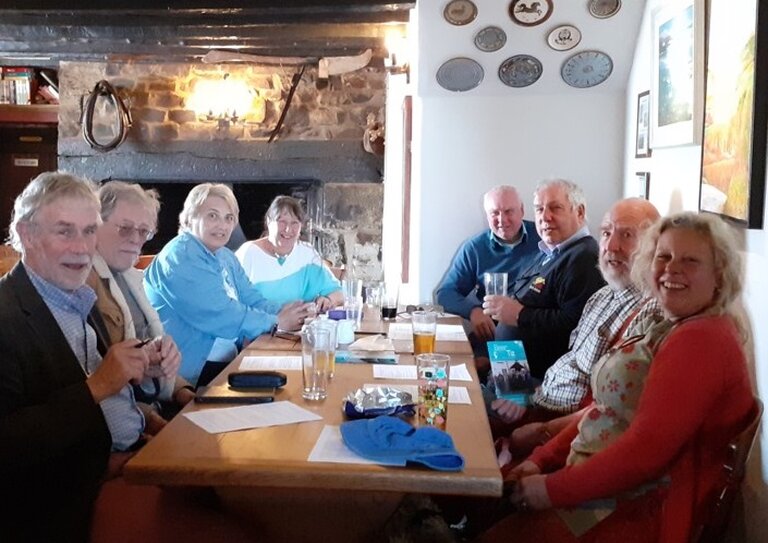 A good time was had by all. Stephen (Snuffy) Lock congratulated Robert Smallbone on the achievement. A wonderful platter of varied sandwiches and roasties was demolished and there was a very nice choice of 2 ales, Yellow Hammer or Butcombe original.
CONGRATULATIONS to: Hartland British Legion our Club of the year winner 2022 .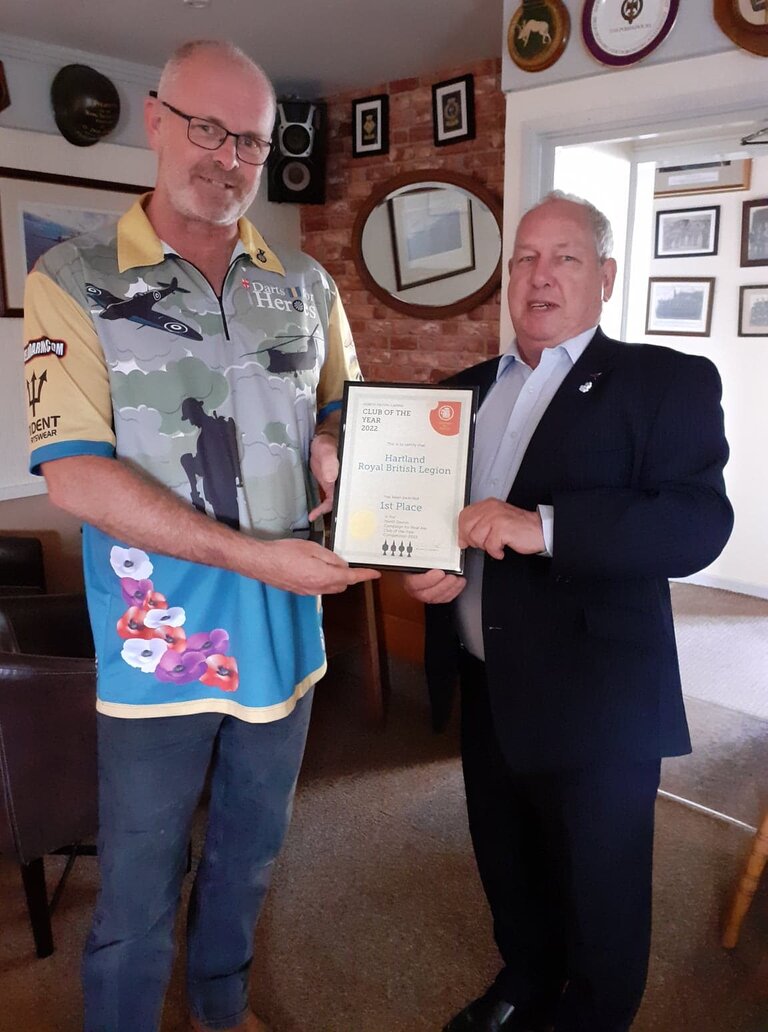 Marcel proudly receiving the certificate from Stephen (Snuffy) Lock.
Presentation of Pub of the year finalists certificate 2022 .
Congratulations to The Bell at Parkham and The Kings Arms at Winkleigh!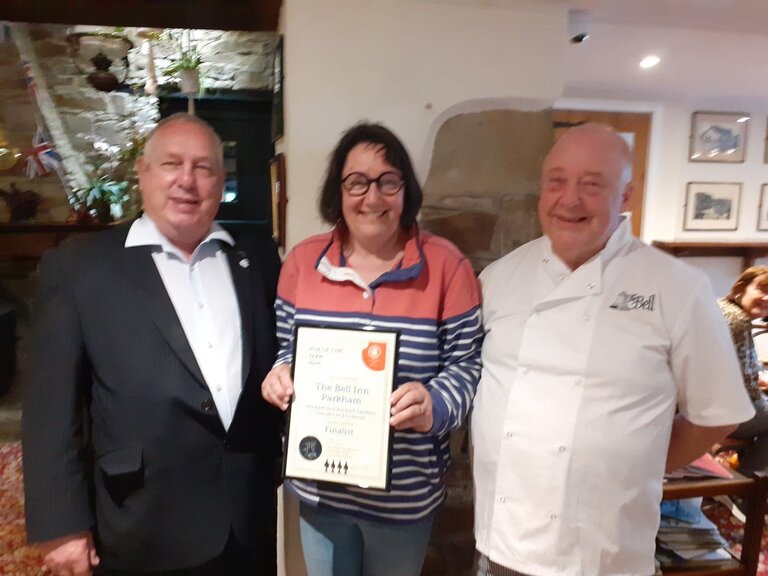 Mike and Rachel Sanders (The Bell at Parkham) receiving their certificate from Stephen (Snuffy) Lock.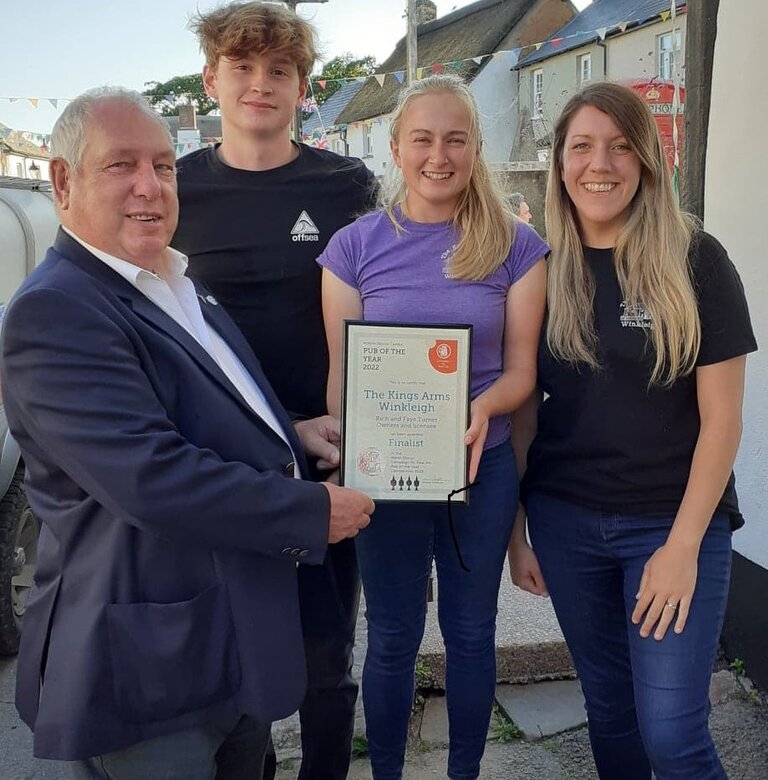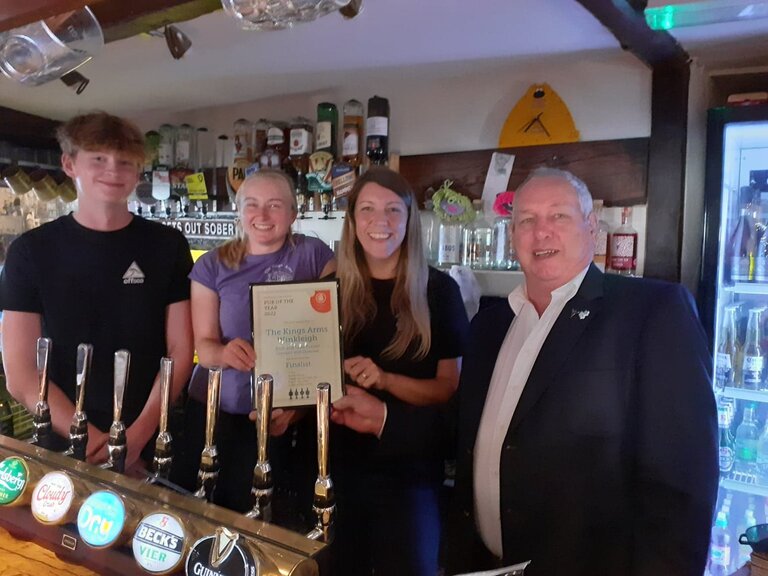 The certificate presented by Stephen (Snuffy) Lock to the staff at The Kings Arms at Winkleighon who received it on behalf of Richard and Faye Turner.
Presentation of Cider pub of the year finalists certificate 2022 .
Congratulations to The Bell at Chittlehampton and The Cyder Presse at Wear Giffard!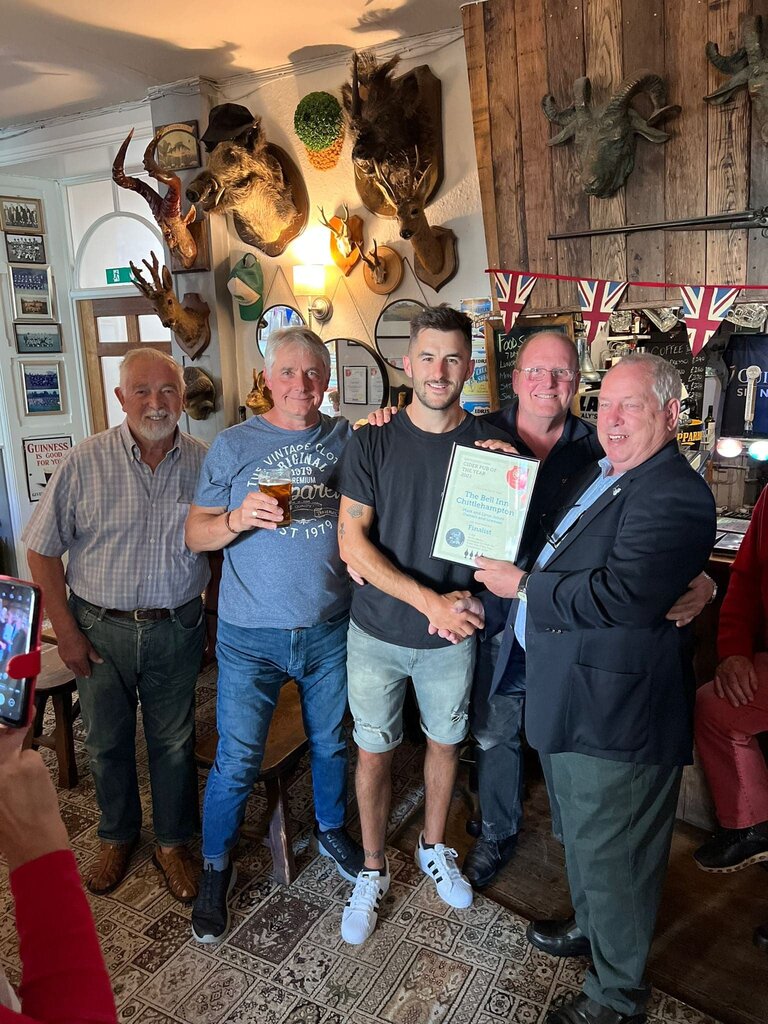 The award was made on 7th July to Kyran Jones (at The Bell at Chittlehampton) by Stephen (Snuffy) Lock on behalf of the branch.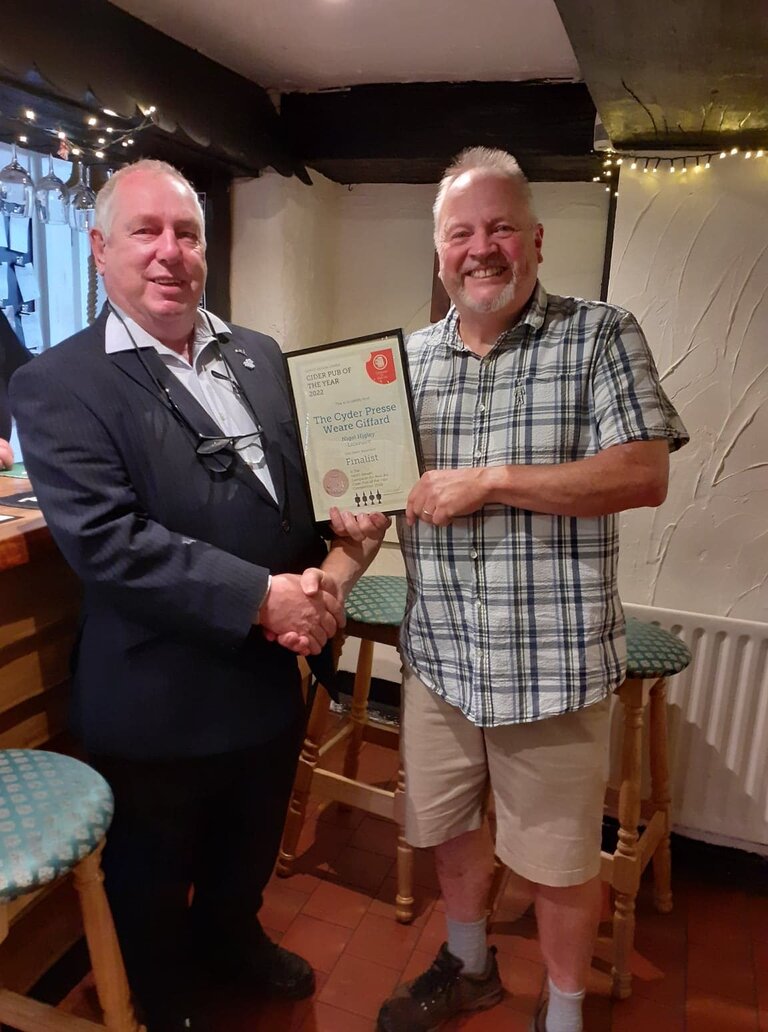 The certificate was presented by Stephen (Snuffy) Lock on behalf of the branch to Nigel Higley (The Cyder Presse at Weare Giffard).
Presentation of Club of the year finalists certificate 2022 to the Libaton Golf Club. Congratulations!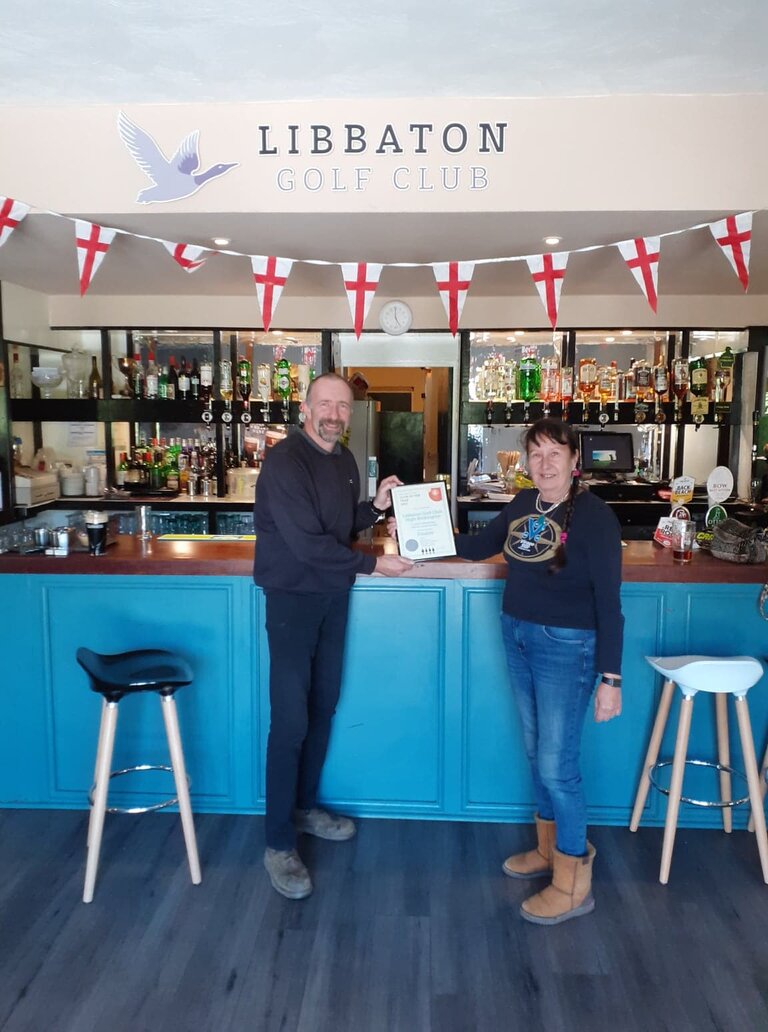 First Campaign Day since Lockdown - 6th. November 2021
On the 6th. November, North Devon CAMRA members enjoyed their first campaigning day since lockdown. With 27 people out on the day it was always going to be an enjoyable time to be able to talk to old friends and, in some cases, even older CAMRA members for the first time in a long time
Hopefully everybody that came along did not suffer too much the following day and will be looking forward to our next day out at some stage in the not too distant future.
Our thanks to Ian Jones and Mike Fletcher who were the day's organisers despite having to rearrange it to new dates after our previous date had to be cancelled due to a Covid issue.
Lastly and most importantly, a big thank you to the pubs we visited, The Devil's Stone Inn, Shebbear, The Half Moon Inn, Sheepwash, The Black River Inn, Black Torrington and The Bickford Arms, Brandis Corner. It is always nice to frequent pubs that one would not normally get to and the number of compliments that were being brandished around about the beer choice and quality confirmed our reasons for visiting them. Thank you!
So below are a few pictures that were taken during the day of the happy revellers!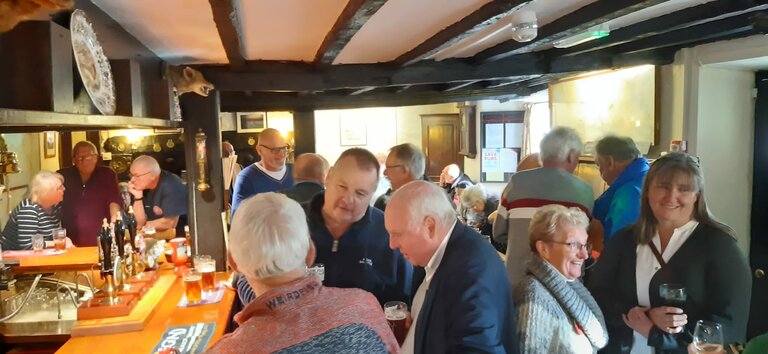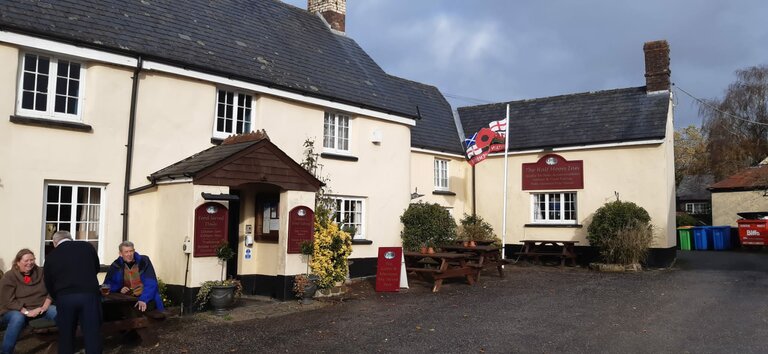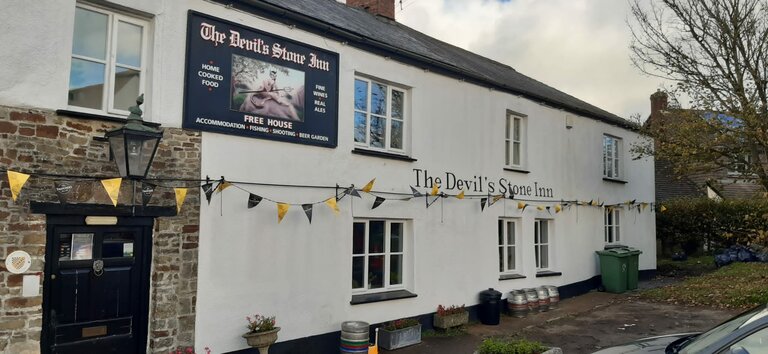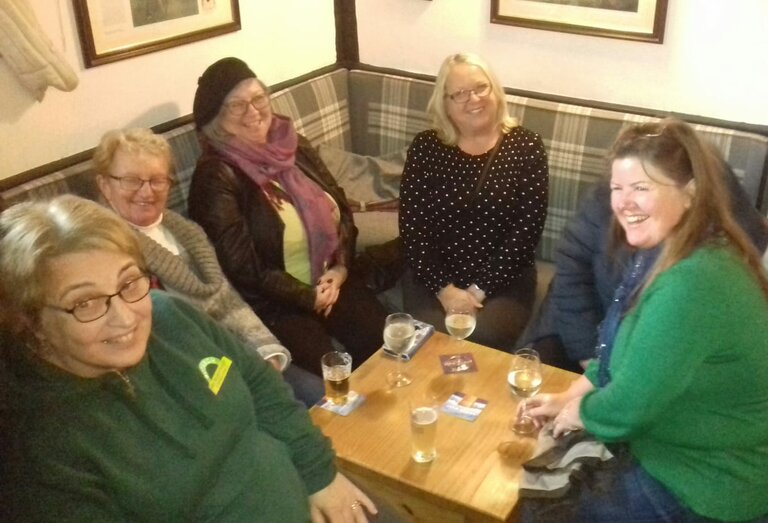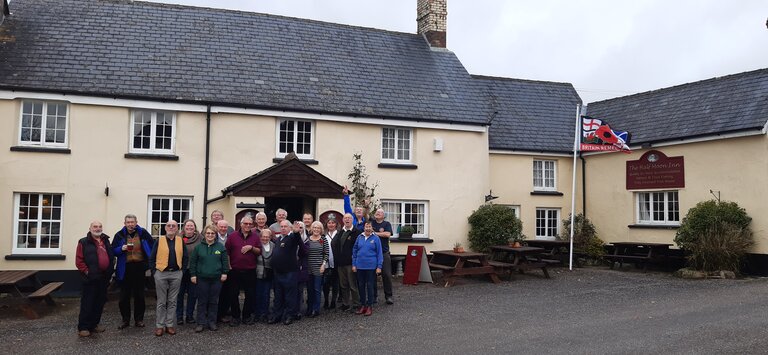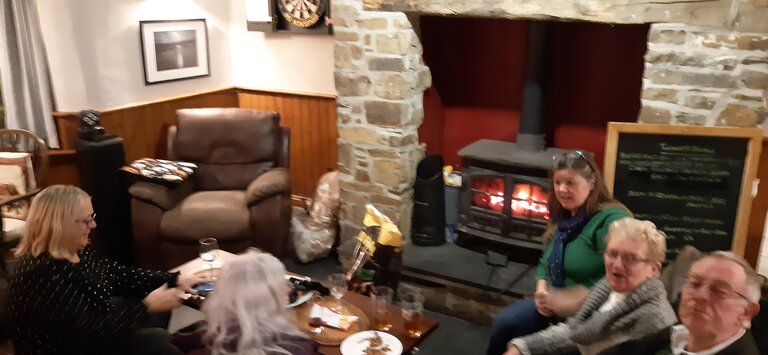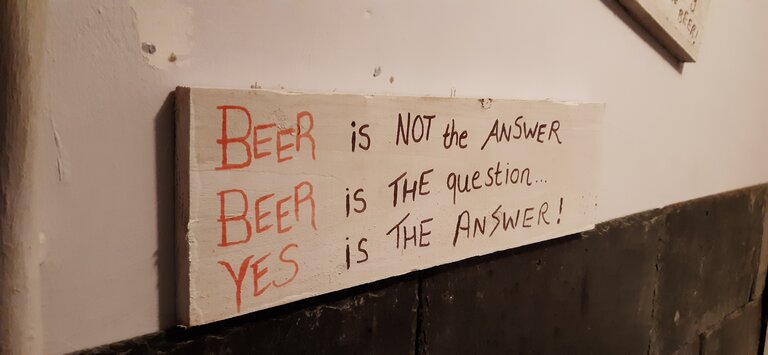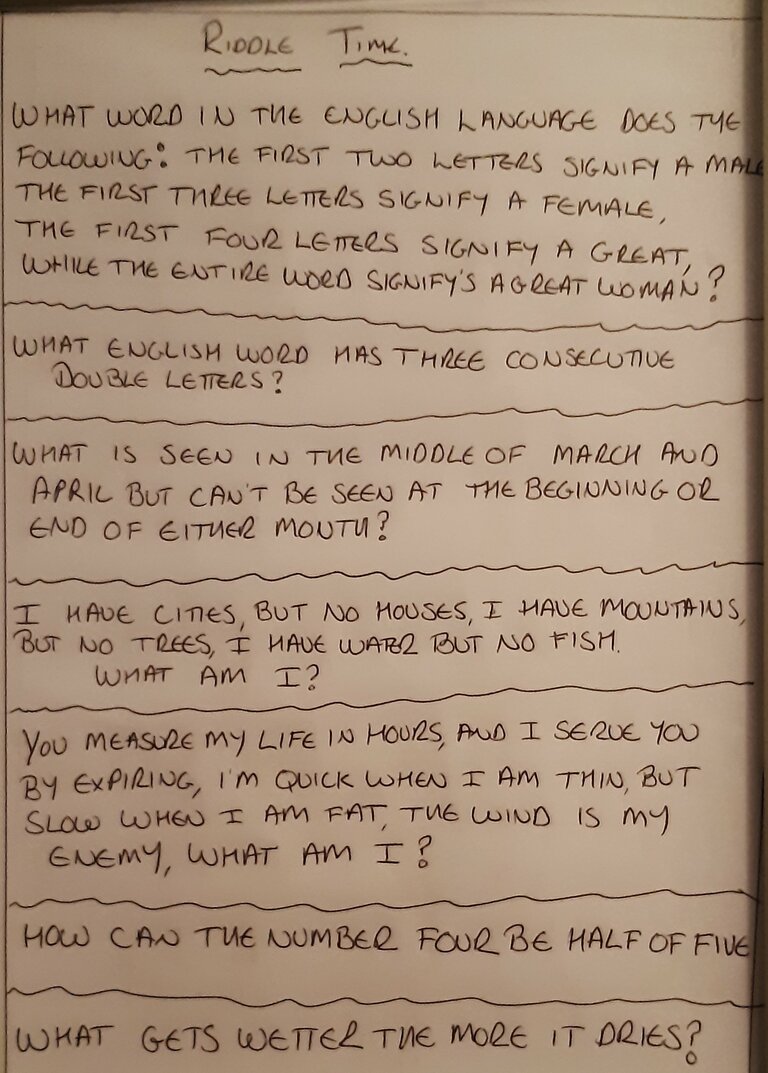 Tim Webster buys The Reform Inn, Pilton.
Barum Brewery in Pilton, Barnstaple, has long supplied the attached pub, The Reform Inn with its products. Recently, the owner of Barum Brewery, Tim Webster, has purchased the Reform Inn and become the new landlord which, considering we are in the middle of a pandemic, was a very bold move by him. Being the owner of North Devon's longest running brewery, when the previous landlady told him she was giving up the pub, Tim swung into action knowing that he could not let the pub just stand.
Below is the proud owner of The Reform Inn, Pilton and we suggest that when we emerge from the latest lockdown, that you take time to go and visit him and enjoy some of the excellent beers he produces.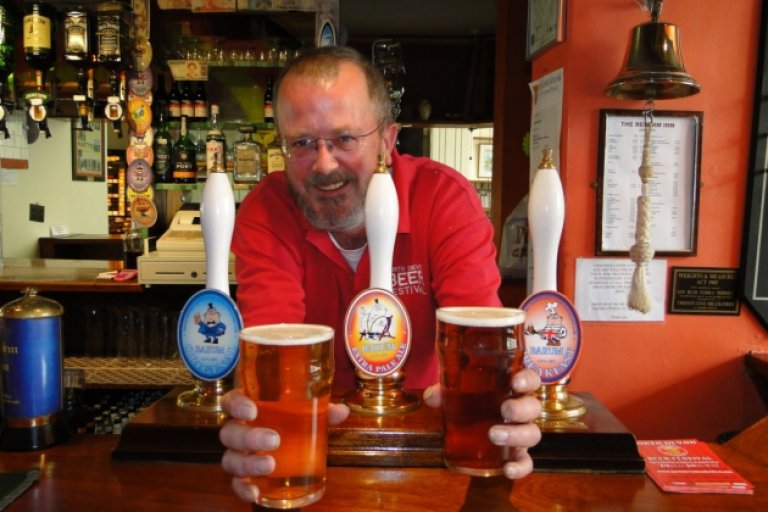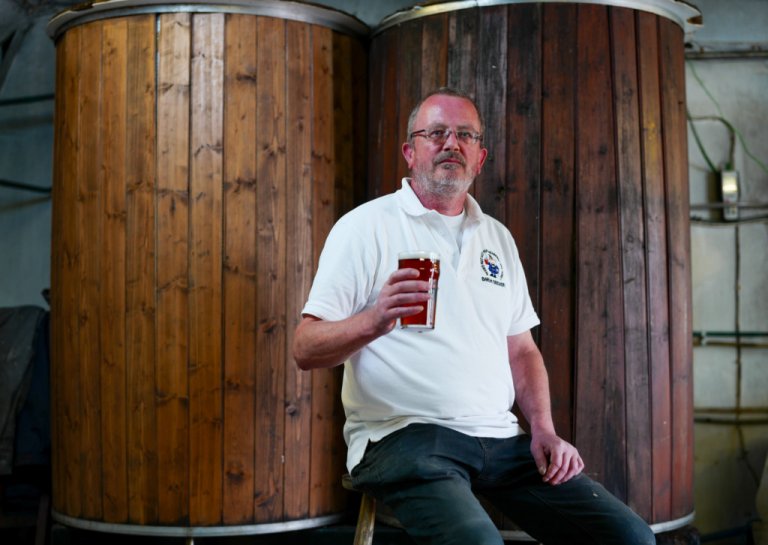 Recently, North Devon CAMRA presented The Panniers, Barnstaple, with their Licensee Pack welcoming them as an entry into the Good Beer Guide 2021. Pictured proudly holding the Guide is Manager George (Alan) Young.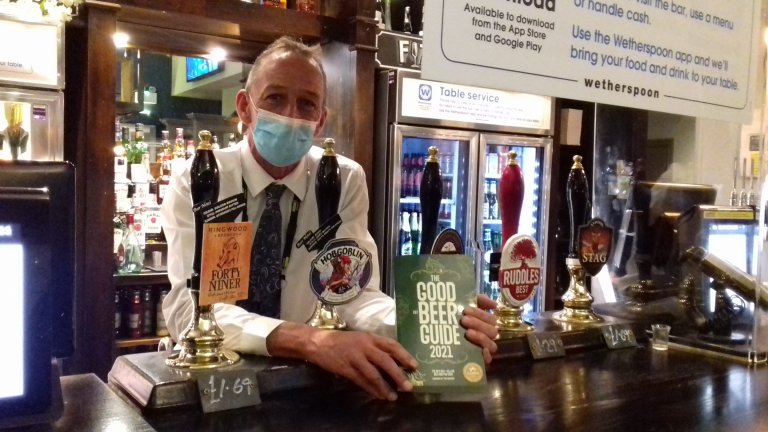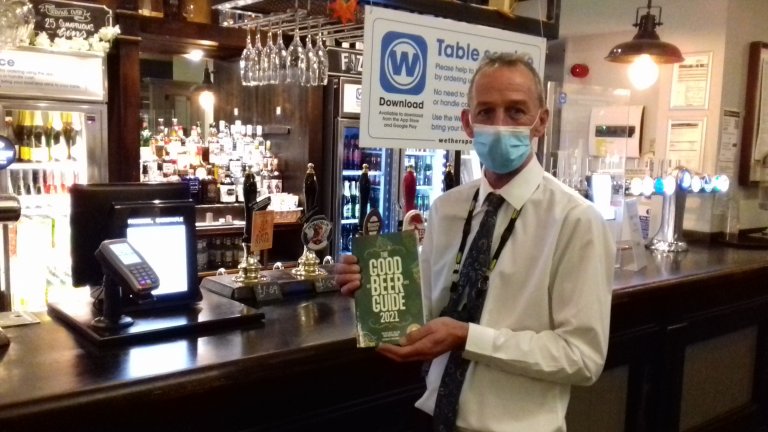 After a period of time that was interrupted by the Covid-19 lockdown and self isolation by the Hip & Pistol, Ilfracombe, North Devon CAMRA were at last able to present them with their Cider Pub of the Year award for 2020, just before the next lockdown is applied!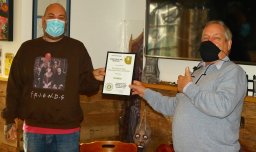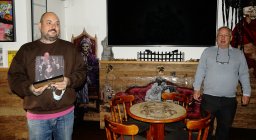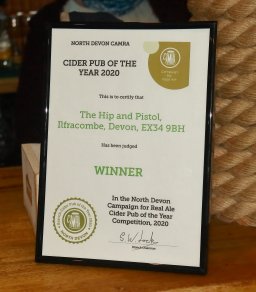 Here we see the Landlord, Nick Waters, being presented with his award by the Chairman of North Devon CAMRA, Steve (Snuffy) Lock.
Congratulations to the Hip & Pistol!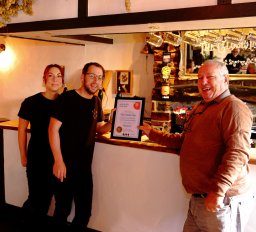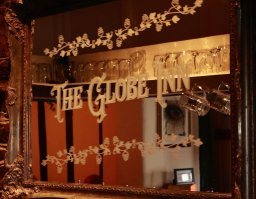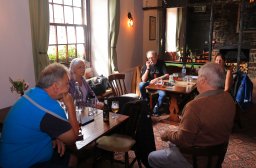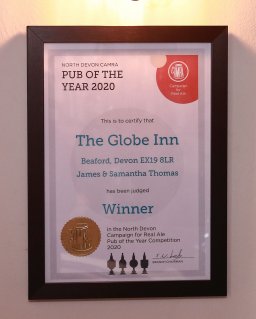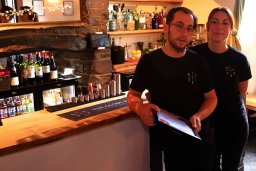 Our Pub of the Year 2020 presentation to the Globe Inn at Beaford. Jim and Sam are being presented with their certificate by Chairman Stephen (Snuffy) Lock in August. A small socially distanced gathering was there to celebrate with them. http://globeinnpub.co.uk/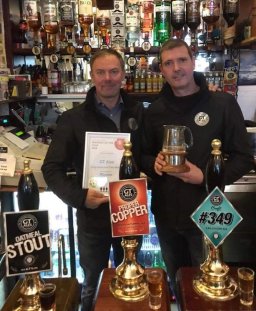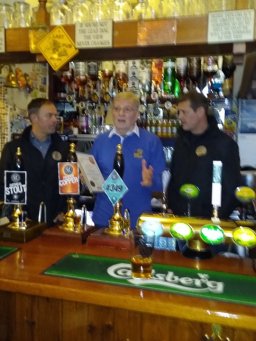 Chris Smyth (Acting Chair) was pleased to present, on behalf of the Branch, GT Ales award of Brewery of the Year on Saturday 25th January at the The Windsor Arms, Bradiford. A good time was had by all.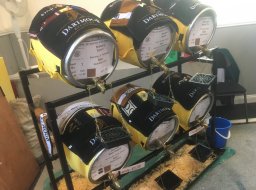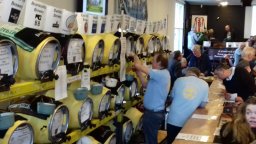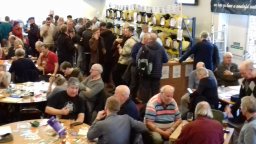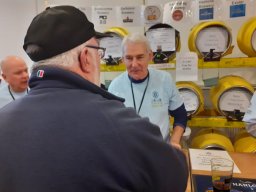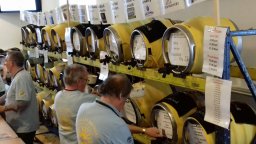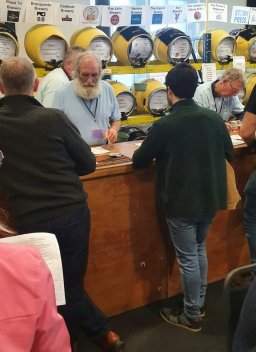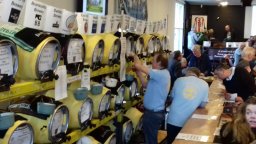 A bunch of us branch members had a great day out at the Exeter Festival of Winter Ales in St James Park in Exeter. A good turnout from North Devon Branch with 11 attending, including 3 hardy volunteers working behind the bar for the Saturday session.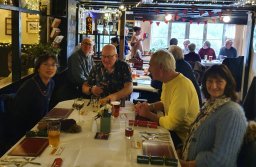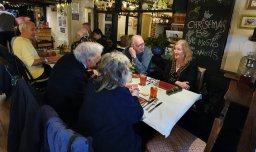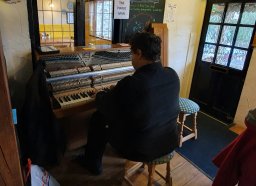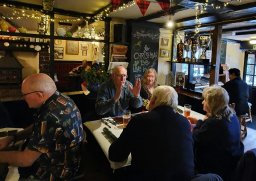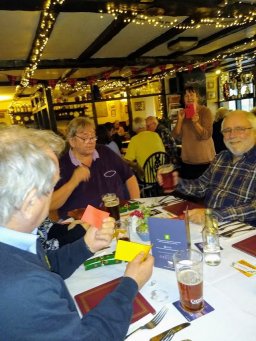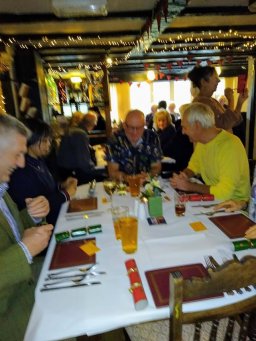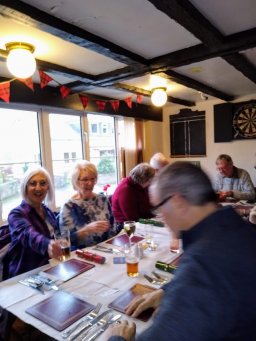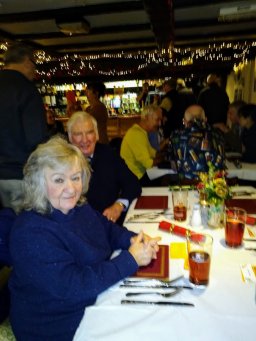 Just a taste of our annual festive meal which took place at the Cyder Presse in Weare Giffard on Saturday 11th Jan. Special thanks go to Nigel and all his staff for such a tremendous lunch and some great beers - plus thanks to Ian and Theresa for all their hard work in helping make the day such a success.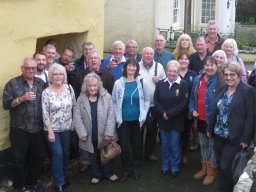 On Saturday 12th October, North Devon CAMRA had a grand Campaigning Day visiting 6 rural pubs, not normally accessed easily by public transport. 25 members were pleased to visit the Castle Inn at George Nympton, the Poltimore Inn at North Molton, the Blackcock at Molland, the Stag Inn at Rackenford, the Thelbridge Cross Inn at Witheridge and the Old Court House at Chulmleigh.
We would like to thank each pub for their warm welcome.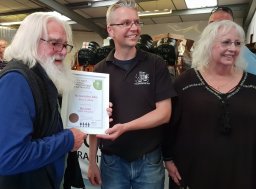 Morris Elsworth and Fiona presenting the certificate for Mine's a Mild - Champion Beer of Britain South West region Bronze winner to Brewer Dave Slocombe at Holsworthy Ales.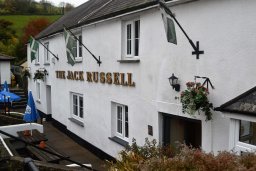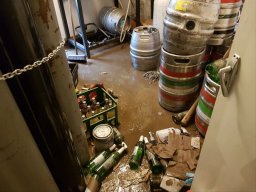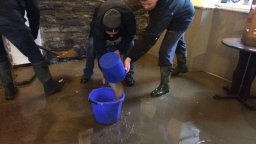 Thank you to Jack Russell, Swimbridge for hosting our recent branch meeting - pleased to see them back up and running after last years floods.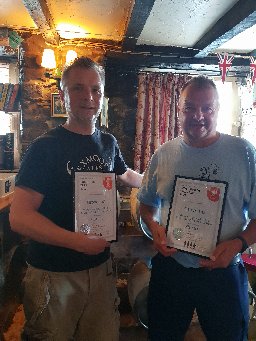 How fantastic is it to see The Grove at Kings Nympton, one of our previous winners of Pub of the Year, still in contention and only narrowly coming 2nd in both Pub of the Year and Cider Pub of the Year, out of over 300 pubs in our area. Well done to Rob, Deborah and the rest of the team!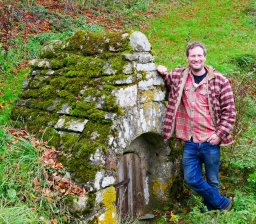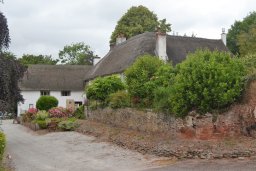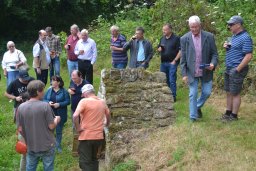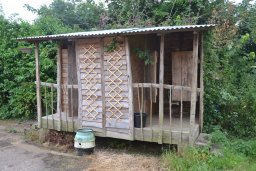 On behalf of North Devon Branch, we'd like to say a big thank you to Marc Whiteside and family for making us so welcome on 13th July at their beautiful home and brewery near the village of North Tawton.
Housed in an immaculately restored 17th century thatched barn, there could hardly be a more atmospheric location for a brewer to work and craft fine ales than Taw Valley Brewery.
Members enjoyed viewing the ancient springhead which is the source of all water used in Marc's brewing operations, but also appreciated the brewery's eco friendly re-cycling facilities!
The beer, of course, was excellent too - particularly the Black Ops (3.9%) with its richly roasted black malt flavour, and also Devon Jester (4.2%) which is a hoppy pale ale packed full of fruity aromas. A full range of other bottle-conditioned ales were also available.
An excellent day all around.
(PS Marc is now also taking bookings for the two bedroomed thatched cottage on site - with more than a hint that CAMRA members could expect to sample the brewery's wares as part of any package!)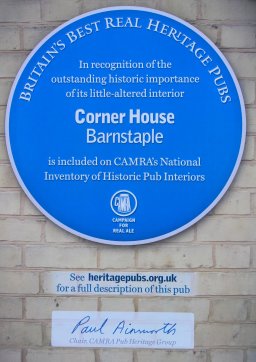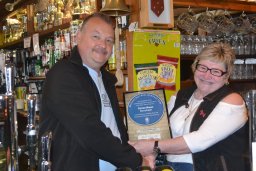 Mark Partridge (Chairman) presenting a Heritage Pub award on 14th June 19 to landlady Dawn Fewings of the Corner House in Barnstaple. Since the 1960s few pubs have escaped major changes but CAMRA has been working for the last 30 years to find, list and celebrate them. On the CAMRA national site they even have a page dedicated to finding Pubs with Historic Interiors This excellent example has a curved art deco frontage and an interior little altered since being built in 1935. While the main bar retains its curved counter, two sided back fittings and inglenook style fireplace, both bar and snug have attractive fielded panelling. The highlight however has to be the gents toilet with their original tiled walls and Twyford Adamant urinals!.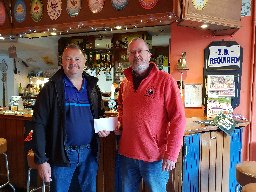 Mark Partridge (Chairman) receiving a donation, on behalf of North Devon CAMRA, from Tim Webster in recognition of members working at North Devon Beer Festival at Pannier Market, Barnstaple, over the late May Bank Holiday. There were over 30 North Devon Beers and 8 Real ciders, as well as local bands, and food from local companies.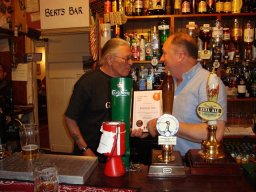 The presentation, made by Paul Wells, of a Pub of the Year Finalist Certificate, to Bert Bolt of The Railway Inn, North Tawton.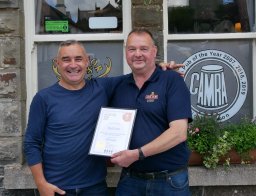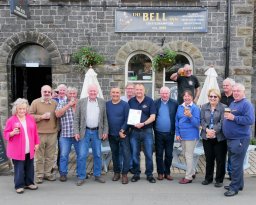 The branch enjoying our Pub of the Year 2019 certificate presentation with the Chairman, Mark Partridge, presenting the certificate to Mark Jones on Saturday, 8th June 2019, at the Bell Inn Chittlehampton.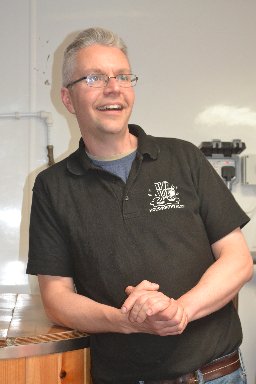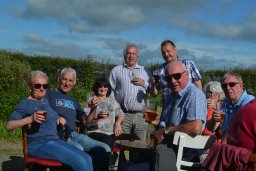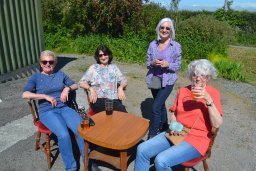 The branch enjoying some fabulous weather and hospitality at Holsworthy Ales in May 2019.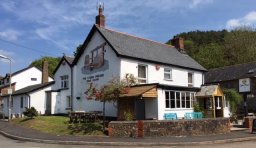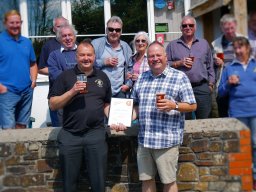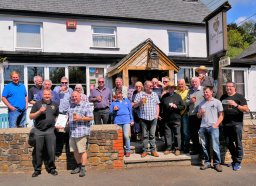 Here is Nigel Higley receiving the North Devon Branch's Cider Pub of the Year 2019 certificate (on behalf of himself, Catherine and the team) from our Chairman, Mark Partridge, at The Cyder Presse in Weare Giffard. This is two in a row for Nigel and The Cider Presse was South West 2018 Region runner up too! A great time was had by all.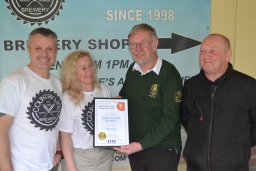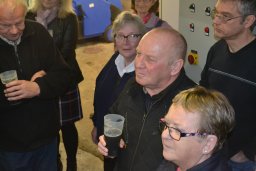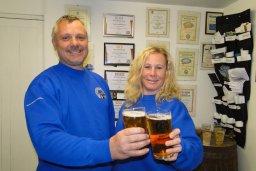 The Brewery of the Year award 2018 being presented (in March 2019) to Simon and Anna Lacey by current and previous Brewery Liaison Officers, Dave Patterson and John Hirst.
As one of North Devon's largest and oldest breweries, Country Life is celebrating its twentieth anniversary; their core range of six ales catering for all palates. Multiple awards from both CAMRA and SIBA testify to their quality. From their early days in a converted milking parlour and using kit from the former Lundy Island Brewery, CLB have gone on to brew over 5 million pints - that's over 15,000 pints a week - as well as bottling their own beers.